Tikka Masala Wraps – Chelsea's Messy Apron
6 min read
[ad_1]

Vegetarian Tikka Masala Wraps start with a soft, warm pita that we load with Indian-spiced chickpeas, crunchy veggies, and the best cilantro-mint sauce.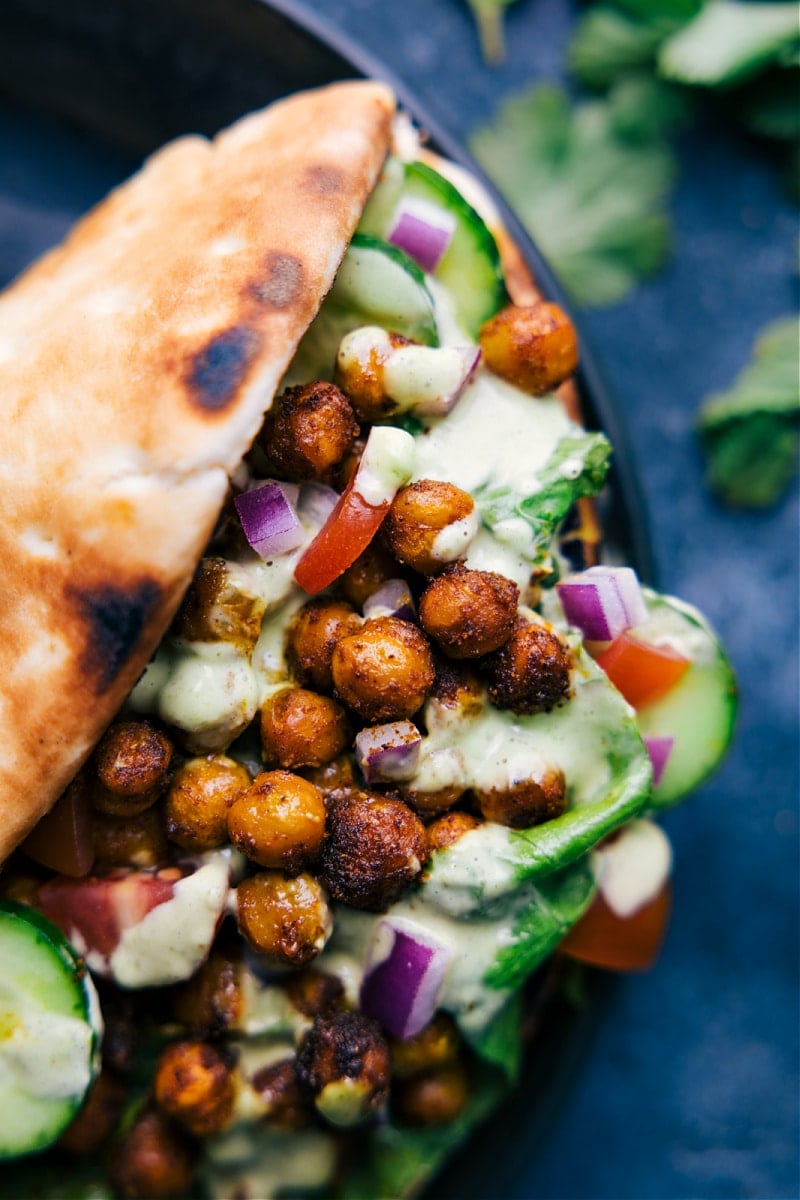 Tikka Masala Wraps
Over the past year, these Vegetarian Gyros have been made countless times. They're one of my favorite lunches and the meal whips together so quickly in the air fryer (especially since I usually have a batch of Tzatziki Sauce made up in the fridge).
So, inspired by those gyros and using similar spices from our fave Chicken Tikka Masala, I present these Tikka Masala Wraps! These wraps are insanely flavorful and just as easy to make as the gyros — especially if you make the cilantro-mint sauce ahead of time. P.S. You may recognize the sauce ingredients — it's essentially the beloved sauce on these Shrimp Tacos, but with mint added in to complement the spices of the chickpeas.
QUICK TIP
These wraps are vegetarian, but it's easy to add in some meat! Simply toss some shredded or diced rotisserie chicken with the chickpeas right out of the oven (or air fryer) to warm the chicken. As you toss in chicken with the warm chickpeas, it will get seasoned with the spices on the chickpeas!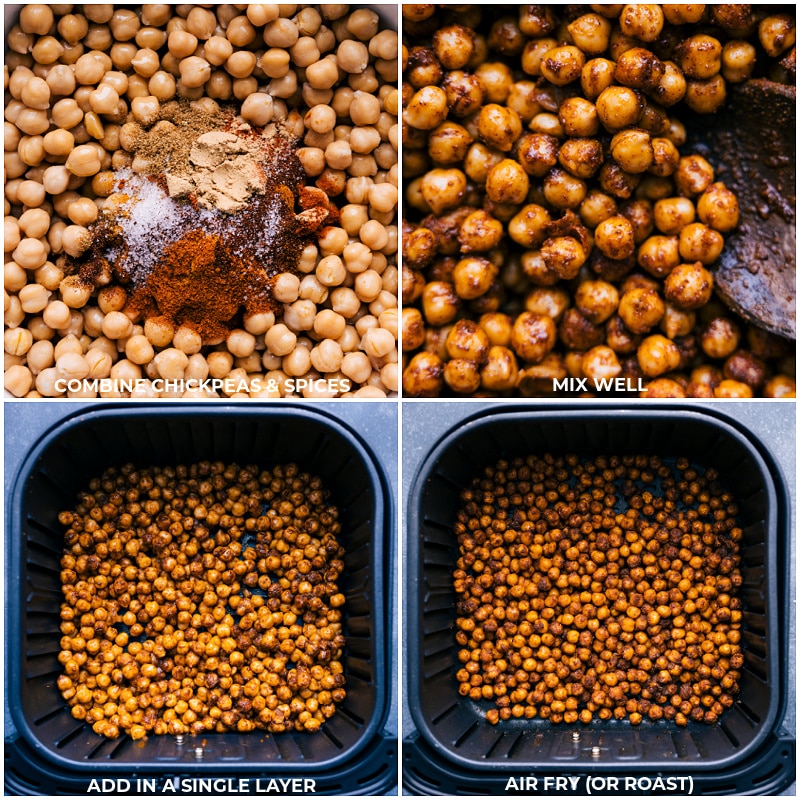 Let's Chat Chickpeas
The base of these wraps is chickpeas– also called garbanzo beans (they're one and the same). While it may seem like these wraps might not be as filling without meat, chickpeas are actually a great source of plant-based protein, making them very satiating.
For these Tikka Masala Wraps, we tested the process of roasting the chickpeas both in the oven and air fryer. While they turn out similarly, the air frier chickpeas were the favorite and honestly, I loved how quick it was. They roast quicker and you don't have to wait for the oven to preheat. (By the way, here's the exact Air Fryer I use and love).
Number 1 Tip: Make sure the chickpeas are very dry before tossing them with oil and spices. Spices won't adhere well to wet chickpeas, and they'll end up steaming more than roasting/frying with excess liquid.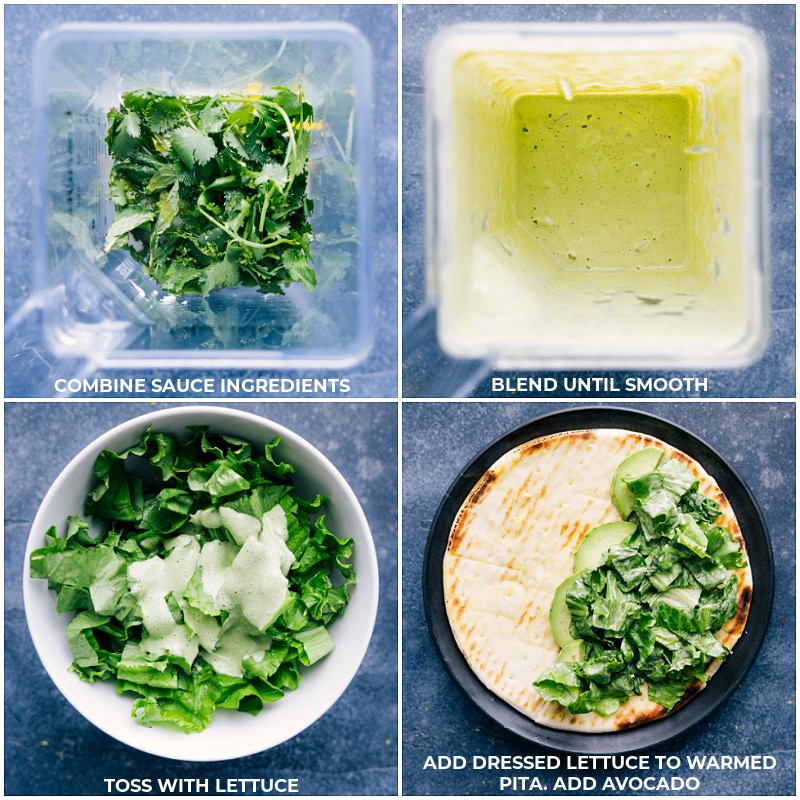 How To Make Tikka Masala Wraps
Use an extra-large sheet pan. The bigger the sheet pan, the more the chickpeas can space out, and the better they'll roast. We use and recommend a 15×21-inch tray — see "quick tip" below!
Add chickpeas in one even layer. If the chickpeas are overlapping or crowded in the air fryer basket (or sheet pan in the oven), they won't get that nice browning and crisp exterior. Browning = flavor!
Enjoy! Roasted chickpeas are best eaten right after they've roasted. They tend to get soft and change texture the longer they sit out.
QUICK TIP
We LOVE this 15×21-inch sheet pan – it gives the chickpeas so much room to get evenly roasted. Also, note that cook time changes quite a bit (it's much longer) when the chickpeas are overlapping or don't have enough space. They also roast unevenly — some become overly crispy while others never develop the crisp exterior.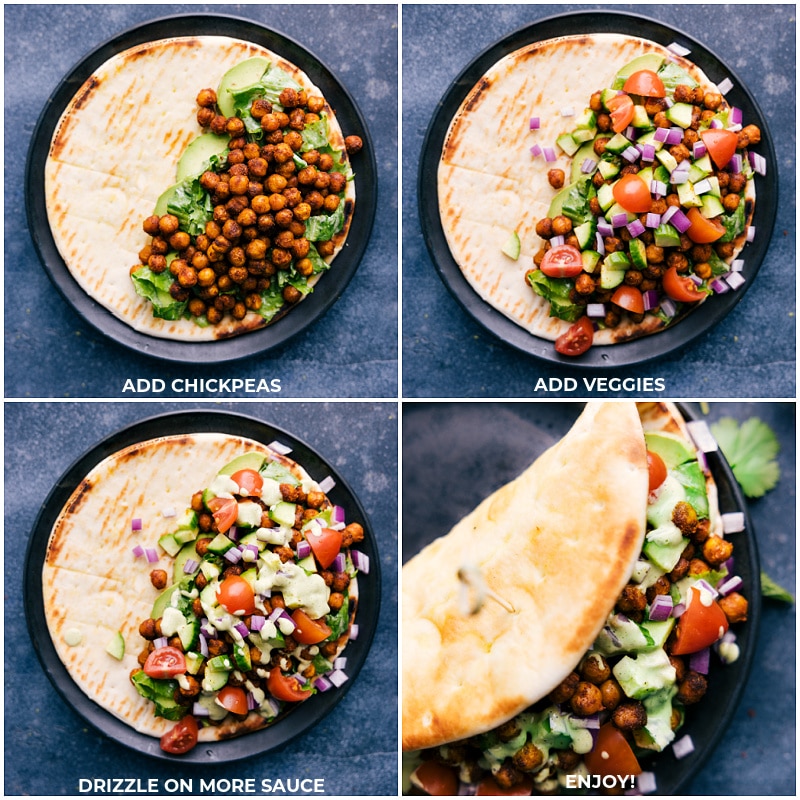 Other Components Of These Tikka Masala Wraps
Beyond the deliciously-spiced chickpeas, there are a few other components to these wraps; we'll break down the components below:
Pita. Small naan rounds also work great! Char or warm the bread (which takes less than a minute!) for the best possible flavor and texture.
Mint-cilantro sauce. This sauce is quick and easy to prepare — add everything to a blender or food processor and give it a whirl! Be sure to use good-quality, full-fat mayo (such as Hellman's/Best Foods®) and use real limes — we rely on the zest and the juice for the best sauce flavor. Using a microplane (like this one), zest only the very outside green part of the lime.
Veggies. Beyond the lettuce, the other veggies you choose to add are up to you. At the least, I'd say a cucumber is a must and beyond that, add what you like best — we love red onions, cherry tomatoes, and ripe avocado.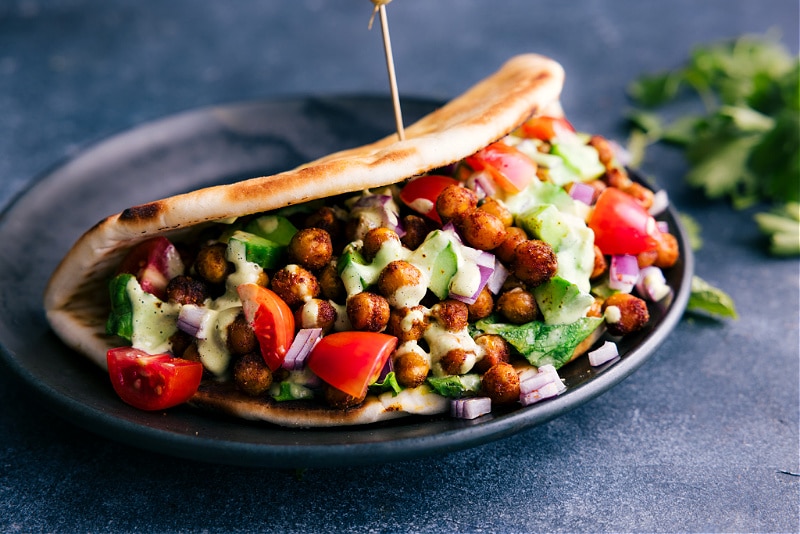 More Vegetarian Mains:
Tikka Masala Wraps
Vegetarian Tikka Masala Wraps start with soft, warmed pita that gets loaded with Indian-spiced chickpeas, crunchy veggies, and the best cilantro-mint sauce.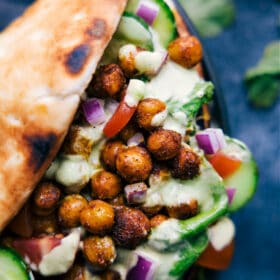 Tikka Masala Wraps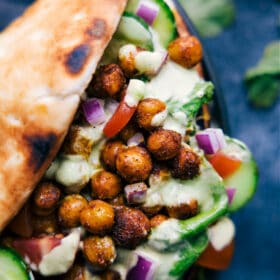 Vegetarian Tikka Masala Wraps start with soft, warmed pita that gets loaded with Indian-spiced chickpeas, crunchy veggies, and the best cilantro-mint sauce. 
Ingredients
Tikka Masala Chickpeas
2

cans (15.5 oz; 439g EACH)

chickpeas/garbanzo beans

3

tablespoons

olive oil

2

teaspoons

garam masala

1

teaspoon each:

paprika, ground ginger, chili powder, turmeric, salt, cumin

Optional: 1/2 teaspoon white sugar
Sauce
1/4

cup each:

fresh cilantro (9g), fresh mint (7g)

1/2

cup

good mayo (112g)

1-2

large

limes

(2-1/2 tbsp juice; 1/2 teaspoon zest)

1

teaspoon

minced garlic

1

tablespoon each:

olive oil, diced jalapeno
Instructions
HEADS-UP: Turmeric can dye surfaces and sheet pans, so be careful/aware using this spice. To avoid the coloring on sheet pan, line pan with parchment paper. We haven't had a problem with it dying our air fryer, but it could happen.

PREP: See Note 2 for air frying directions; otherwise, preheat the oven to 400 degrees F (200 C). Drain and rinse chickpeas and then dry in a salad spinner or with paper towels (wet chickpeas won't roast as nicely). Generously grease a sheet pan (I use a 15×21-inch pan) with cooking spray.

CHICKPEAS: Add chickpeas to the prepared sheet pan. Drizzle on oil, add all the seasonings (and sugar if using). With your hands, toss everything until well coated (there are a lot of spices — this is intended); spread the chickpeas out in an even layer (not overlapping) on the tray. Roast for 18-22 minutes, shaking the tray at the halfway mark. (We like them best at 20 minutes.) Roast until they're crisp, but not hard. Remove and set aside.

SAUCE: Meanwhile, add the sauce ingredients to a small food processor or blender. Season to taste with salt, I add a heaping 1/4 teaspoon. Blend until smooth and then transfer to a covered container and refrigerate until ready to use.

ASSEMBLY: Char 4 pitas/naans (optional — see note 3). Chop the lettuce and add to a large bowl. Toss with about 1/3 cup of the sauce until well coated. Divide saucy lettuce between the 4 charred pitas and top each pita with 1/4th of the chickpeas. Add any veggies you'd like (Note 1) on top. Drizzle some more sauce on everything and enjoy promptly! These are messy and the chickpeas fall out — so serve with a fork to help scoop what falls out back into the pitas!
Recipe Notes
Note 1: Veggies: Use whatever veggies you'd like; I'd say English/Persian/mini cucumbers are a must (we love the crunch/crispness!), but the rest are optional. We add diced cherry tomatoes, diced red onion, and a thinly sliced ripe avocado — but that's up to you.
Note 2: Air fryer chickpeas: Heat the air fryer to 390 degrees F. Toss chickpeas, olive oil, and seasonings in a bowl until well coated. Put the chickpeas in the air fryer basket in one even layer (if they're overlapping, they won't fry as nicely — fry in batches if needed) and cook for 10-16 minutes (we like them best at 14 minutes) or until crisp, but not hard. Shake the air basket at the halfway point to ensure even frying.
Note 3: Char pita or naan: Spray both sides of the pita or naan with olive oil cooking spray and "grill" on the stovetop over an open flame (on medium heat) until slightly charred, about 10-15 seconds per side (flip with tongs). Once charred, immediately fold in half and cover with a clean towel until ready to serve. Alternatively, warm in a skillet over medium heat until warmed through or (covered with a damp paper towel) in the microwave.
Nutrition information does not include toppings, as they will vary.
Nutrition Facts
Serving: 1serving | Calories: 289kcal | Carbohydrates: 30.5g | Protein: 11.1g | Fat: 14.9g | Sodium: 623.8mg | Fiber: 9.9g
We do our best to provide accurate nutritional analysis for our recipes. Our nutritional data is calculated using a third-party algorithm and may vary, based on individual cooking styles, measurements, and ingredient sizes. Please use this information for comparison purposes and consult a health professional for nutrition guidance as needed.
[ad_2]

Source link