Two Vastly Different Italian Food Experiences Both Manage to Delight | Bites
8 min read
[ad_1]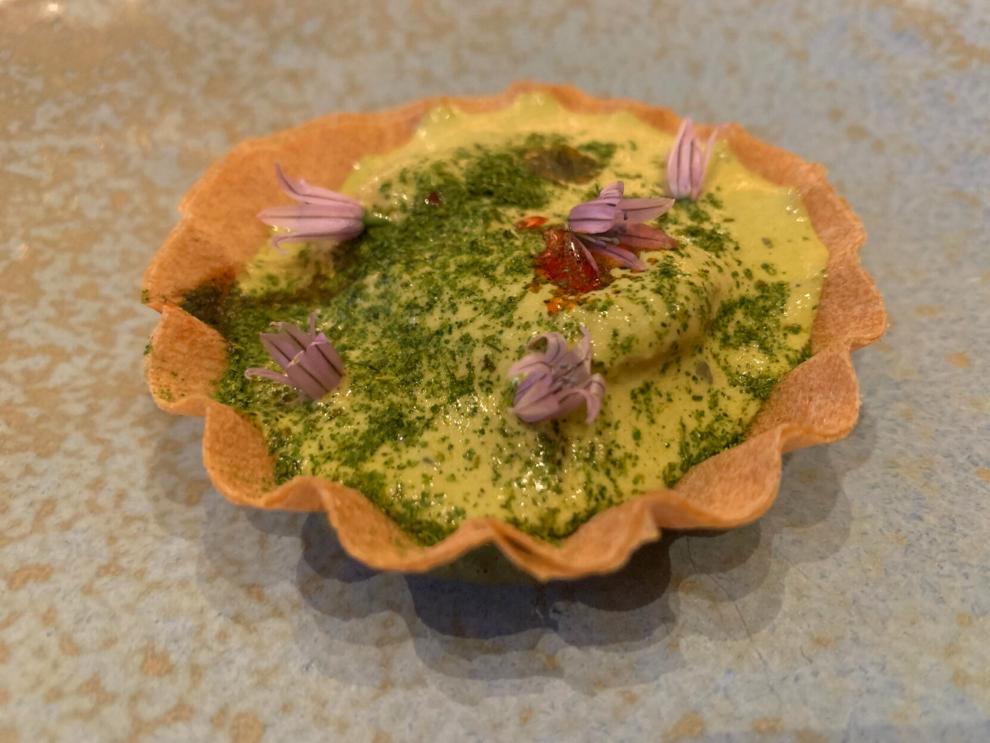 Ask Americans what their favorite international cuisine is, and Italian is bound to make their top three at least. But "Italian food" is such a broad topic that it is unfair to the many different regional cuisines and styles of service in the country. Anyone who follows Stanley Tucci on his gastronomic tour of the boot in CNN's Searching for Italy should realize that the country has as much variety of ingredients and kitchen techniques as the U.S. does, and we don't really talk about "American food" as a meaningful descriptor. So what we clump under the umbrella of Italian food can range from a simple bowl of pasta served with a rustic Sunday gravy to a Michelin-starred kitchen's elegant presentation of assoluto di bosco topped with a shower of shaved truffles.
This is all to say that when I recently planned two meals in two different Italian restaurants, I went in knowing that the experiences would probably be vastly different. The first was a sampling of the new spring menu at Yolan, chef Tony Mantuano's elevated Italian restaurant in The Joseph. I knew the meal would be a languorous experience with excellent wine pairings, courtesy of the talented beverage staff under the direction of Cathy Mantuano, and I was not disappointed.
The second was meant to be more of a novelty, an experience at the new Nightscape, a fully immersive, 360-degree multimedia complex in the former home of 12th & Porter (where I also had some immersive experiences back in the day, if you know where I'm coming from). The entertainment venue uses multiple projectors, a surround sound system and even aroma generators to create the illusion of being in the middle of somewhere other than 12th Avenue. Designed for flexible uses like telecasts of live sporting events or multi-media presentations, Nightscape also partners with culinary teams to present special dinners. I attended the current offering called "Taste: and Italian Villa" which aimed to transport diners to the gardens and ballrooms of an estate in Tuscany. In its own way, it was also highly entertaining.
Now, on with the details.
Not only was Yolan showcasing their new menu, they were also introducing Nashville to their new chef de cuisine, Joey Fecci. The 24-year-old prodigio of a chef already had experience working with Mantuano from a stint manning every station on the line in the kitchen at Spiaggia, the Chicago restaurant where Mantuano earned his Michelin star. After Spiaggia closed and the Mantuanos moved south to start up Yolan, Fecci found himself taking a short vacation in Nashville early in the pandemic.
While out for a jog through SoBro, he happened to run into a couple of his former Chicago coworkers who told him about the plans for Yolan. Despite having no prior knowledge of the restaurant, Fecci accepted an invitation to join the opening staff as a sous chef before moving up the ranks to head the kitchen.
For such a young chef, Fecci demonstrates great finesse in the kitchen, as well as a knowledge of local and seasonal ingredients. An opening salvo of marinated mussels served with a fermented ramp cream and Calabrian chili oil was a lovely fusion of Puglian cuisine with an Appalachian flourish. Other highlights of my tasting included orecchiette with broccoli rabe and a brilliant olive risotto served with a Kalamata olive caramel that was briny and sweet and revelatory.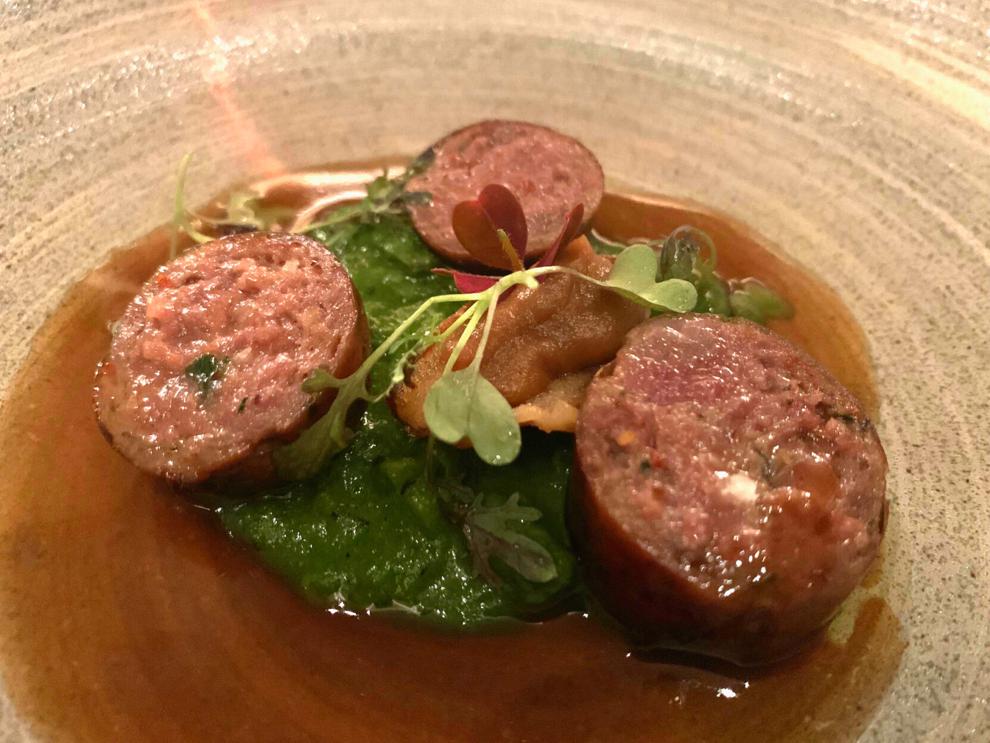 I'd never had (or heard of) ravioli di grano arso, but the toothsome al dente paste made with "burnt wheat" and served with a mushroom ragu was delightful. While I didn't quite get the flavor combination of the next main course, halibut and chicory, some of my dining companions did enjoy it. It was quickly forgotten when the lamb sausage arrived under a bright and fresh asparagus salsa verde and braised shallots. I really enjoyed that one.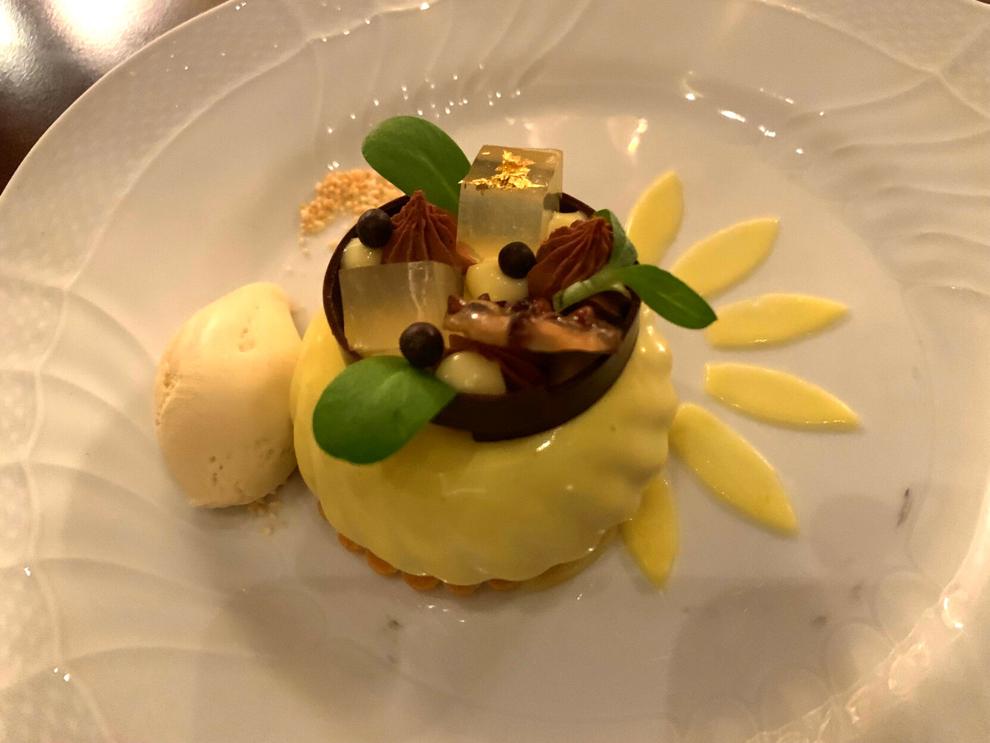 The pastry kitchen at Yolan has never let me down, and the two desserts were both wonderful. A pavlova made with pickled raspberries and goat's milk was tart and refreshing, and the finishing girasole was meant to represent a sunflower from root to bloom. The combination of caramelized SunButter, burnt sea salt, sunflower sprouts, bergamot and sunchokes was great way to end a meal.
These same dishes are available as a tasting menu of either five or eight courses, with wine pairings also available. In order to maintain proper timing between plates, the entire table must take the trip to Puglia together, but it's a helluva ride! Book your voyage at the restaurant's website.
With the popularity of immersive events like the touring Van Gogh and Monet exhibits popping up around the country, it's not surprising that a concept like Nightscape has emerged here in Nashville as a destination for tourists and locals alike. I thought adding the culinary component was an interesting touch, but I was curious about how good the food might be. 
When I saw that Zane Dearien, the executive chef at Pastaria had designed the menu for the multicourse dinner, I was enthused. In fact chef Dearien was working in the kitchen at Nightscape alongside the in-house cooking staff on the night I dined.
While the intent is for the specific culinary concept and surrounding digital ambiance to change periodically, they'll be running the Italian villa for at least a while longer with some possible pop-ups of other cuisines on weekends. Nightscape offers two seatings a night, at 5:15 p.m. and at 8:15 p.m., and we were happy to be the early birds. Since parking is scarce and the optional wine pairings are suggested, ride sharing is strongly recommended.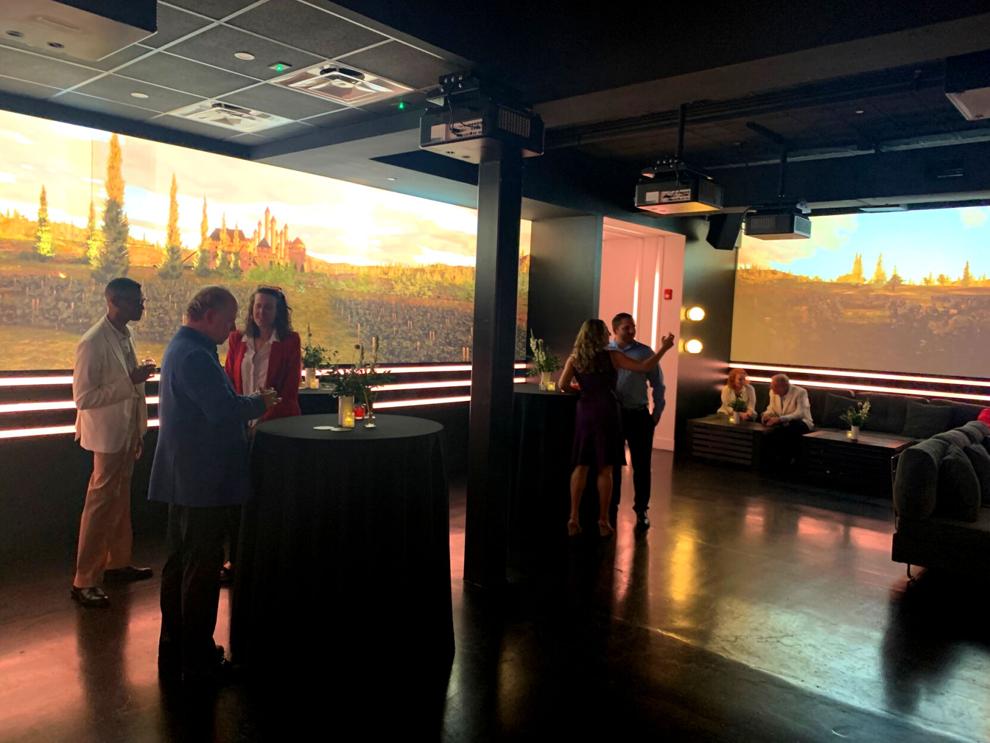 The experience is $129 per person, with wine available as a pairing of 3-ounce pours, by the glass and by the bottle, as well cocktails from the bar. After check-in, diners are escorted into the lounge for a welcome cocktail, a nice amaro-forward appetite stimulator. While diners mingle and enjoy their drink on comfortable couches or at high-top tables, they get their first taste of the multimedia experience with projections of serene Italian scenery to set the mood.
The doors open after about 20 minutes, and guests find their tables courtesy of table and seat numbers projected from the ceiling onto the tables. This was a nice touch, but if you're a big Instagrammer (which I decidedly am not,) you'll discover that the pixels on the table make any photos of your dishes look like you shot them through a screen door.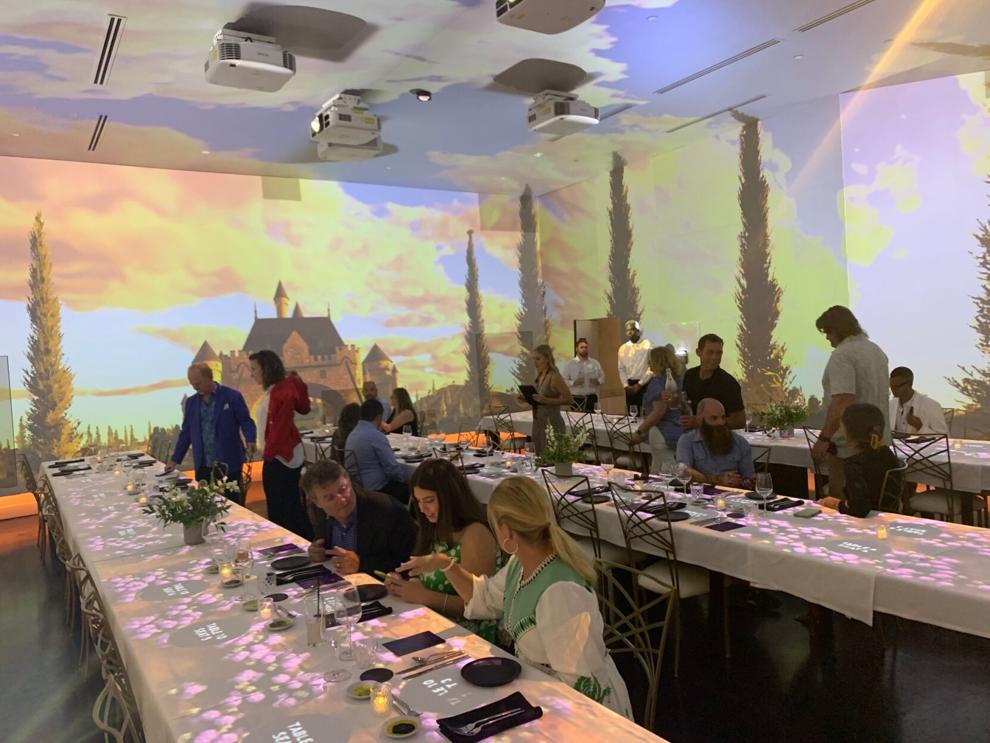 The walls are covered with surrounding images of scenery in and around the virtual villa, and the images change with each course. These are digitally created images, not actual photography, so the effect was sort of like being inside a 20th-century video game, like Myst or Dragon's Lair. While not totally realistic, it was novel, especially when the perspective changed as the images moved from scene to scene. There were a few glitches like when a computer went down for a few seconds, turning a section of the wall blue. The audio component of the illusion is directional, meaning if you sit under a surround-sound speaker like we did, you might be a little distracted by the buzzing of insects and the squawking of birds. It's still better than actually fighting off bugs while dining al fresco. 
While I didn't notice if the scent diffusers were in use to add to the ambiance, the fact that it didn't smell how I remember 12th & Porter did is a very good thing!
The meal was exactly what I expected from a Pastaria-inspired menu. A bread and olive oil service was quite good, and our basket was thoughtfully refilled even before the aperitivo came out. That starter was a briny presentation of marinated olives and artichokes that was quite flavorful without swimming in oil. It was followed by an antipasti dish of salt- and citrus-cured scallops, expertly sliced thin and topped with trout roe, citrus, pine nuts and herbs.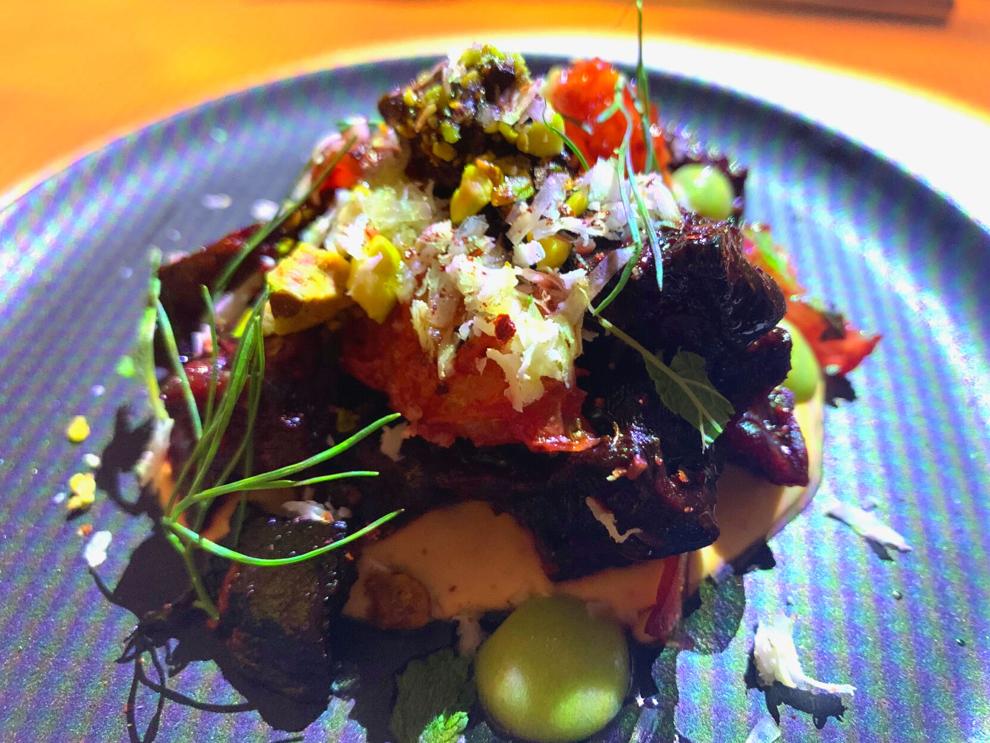 As the scene switched from vineyard to the grand lobby of the villa, sounds of creaking bridges and doors added to the illusion as the attentive staff whisked away the first plates. The second antipasti was a plate of salt-roasted beets served with a umami-rich miso puree. My dining companion usually cannot abide by beets, and though substitutions are not a normal part of the experience, the kitchen thoughtfully subbed roasted carrots after an email request. I offered her a taste of my beets, and she didn't recoil, calling them "almost as good as Deb Paquette's!" That's high praise.
The insalata course was a non-typical Caesar salad, made with kale instead of romaine. The Caesar dressing was heavy with anchovies, a good thing in my opinion. Topped with strong red onions, roasted nuts, pecorino and more trout roe, it was reminiscent of one of the Pastaria salads that we already order often. You'd have to be a kale fan to really love it, and the reappearance of the trout roe demonstrated the shortcomings of the kitchen space where they seemed to repeat a few elements in multiple dishes.
The primo was a really solid agnolotti pork XO ricotta in a grana brodo. The broth that the agnolotti was served with was delicious and deeply flavorful. When I learned that one of the lead cooks in the kitchen is a veteran of Black Dynasty Secret Ramen House, I understood why that broth was so complex, because those guys definitely know how to infuse flavors into a bowl.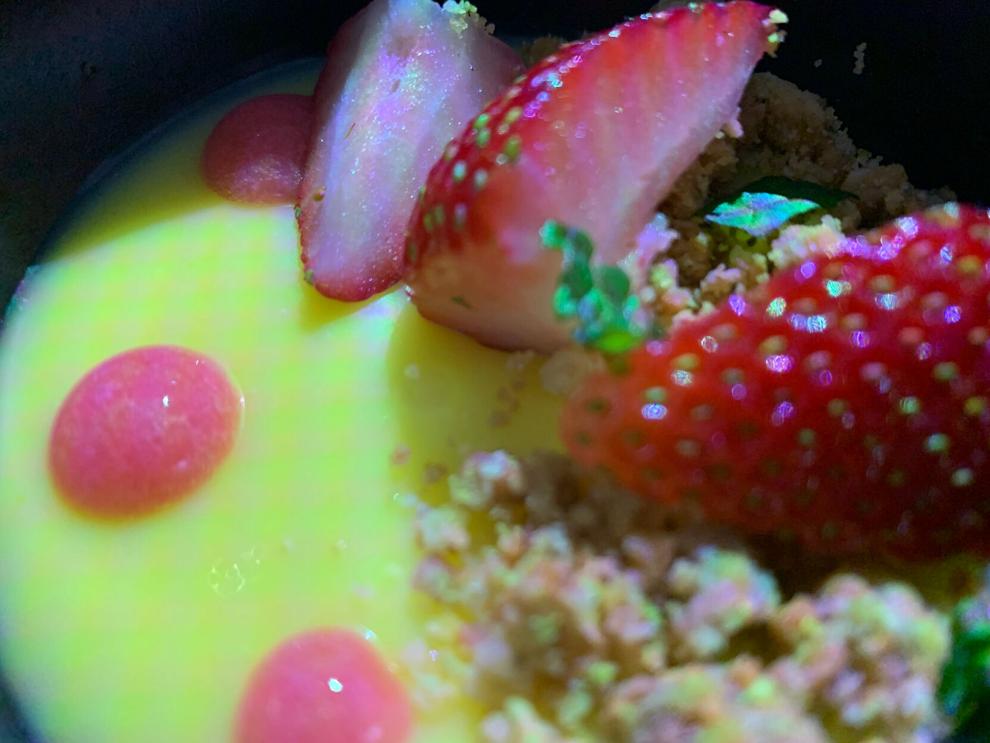 Dessert was served with a little Montenegro amaro instead of wine, a nice accompaniment to the delightful lemon mascarpone with strawberries and oat crumble. I took a moment over dessert to look around at our fellow diners who seemed to be having a great time on their virtual journey. Some were dressed up for a fancy night out while others were decidedly casual. I would expect that the future crowds will be a combination of tourists and curious locals checking out the newest experience in town.
Was it a little cheesy? Sure. Was it fun? Absolutely! Was it delicious? Yes, exactly what I expected from Pastaria, one of my favorites. Probably the most novel part of the evening was exiting the restaurant to discover that it was still light outside. Now I won't say that's the first time I exited that building to be illuminated by God's spotlight, but in the past it was after dawn instead of before sunset. I have to say I prefer the current situation at my age. If you'd like to try it out, make a reservation at Nightscape's website.
[ad_2]

Source link